How much do you plan on making this year? If you only have referral sources, then take those referral sources and add 20%.  A good web campaign should bring you about 20% above and beyond your other sources. A great web campaign will bring you much more in terms of percentage.
Now take that 20%, and make it into a dollar figure.  That's what you should spend on marketing. Yes, expect a 1 to 1 return. Before you call me nuts, I promise you that you will learn the secrets of law firm marketing budgets below.
Big Mistake: Not Understanding Your Marketing Return on Investment
The biggest mistake I see immature marketers make is not understanding Marketing ROI. Marketing is not an arithmetic or even exponential investment.   It may lead to a 100 times or even 1,000 times return if done properly.  A marketing return of 1 to 1 is a good one, especially in Web. If you exceed the 1 to 1, it's a great return.  If you are a personal injury attorney, you always have the chance of hitting a home run.
Here is the Super Secret Truth of Marketing: unlike stocks, a $100,000 investment in marketing does lead to a 10 times increase in return compared to a $10,000 investment in marketing.
Why getting a 1 to 1 return on marketing is a good return.
If you don't lose in marketing, you are winning.  Really, you have one job as a personal injury law firm. It is to market.  I understand you need to win cases.  That's your job as a personal injury lawyer.  As a law firm, you are running a business and you need to market. If your efforts win you a 1 to 1 today, that one client may yield you another client in the form of a referral (or even ten, according to the Marketing Guru Seth Godin).
Your 1 to 1 marketing builds on itself if done with intention, ideal clients, and a consistent story. People will begin to recognize your name, especially if you target ideal clients with a story.  Of course you can go the "branding" route, but branding only works if there is a consistent story behind it. That's another mistake in another blog post.
1 to 1 marketing allows you to grow the information you get about marketing, to test the waters, and make bigger "swings for the fences."
If that 1 to 1 return keeps yielding a 1 to 1 return, you are staying afloat.  You also put yourself in a position to hit a home run.
A 1 to 1 return also allows you to seek out the Super Secret Truth of Marketing ROI.
Why a 1 to 1 return on Internet marketing is a great return.
When you market properly on the Internet, it has a much higher compounding effect.  First, you are permission marketing, not interrupting.  You have a better chance of someone remembering you and your firm if they are looking for such information, even if they have not been in an accident (yet).
When you market properly on the Internet you are building your 4 pieces of Internet capital.  Your investment grows and grows and grows, if done properly.  Every investment in your business marketing on the Internet increases the chance of profitability of the previous investment.
Why anything above a 1 to 1 is an amazing return.
If I told you Apple is going from 400 to 600 this year and I know from my source at a very large investment firm there is an 99% chance of it happening, you most likely would reallocate a significant portion of you assets there.  You probably would rearrange your IRA and tell all of your friends.  When it happened, you definitely would tell all of your friends about your 1 to 1.33333 Return on Investment.  If it only went up 50 dollars a share you probably would still be very happy,  If the market crashed, "C'est la vie" might be your response.
How much do you know about Apple?  You use their devices.  Your kids spend a ton at the Apple store.  You watch Jim Kramer.  In reality, if you are investing in Apple and don't have to disclose anything to the SEC, you know very little about the company.
However, there is a company of which you know every single nook and cranny.  Yours!  So why aren't you investing all of your money in your own company?
MATH TIME: The Super Secret Truth of Marketing ROI
I lied.  This is not just Math, but a theory from evolutionary biology.  It's called Punctuated Equilibrium.   Evolution generally does not occur in a curve or a line. It occurs in jumps. It's not a pretty chart: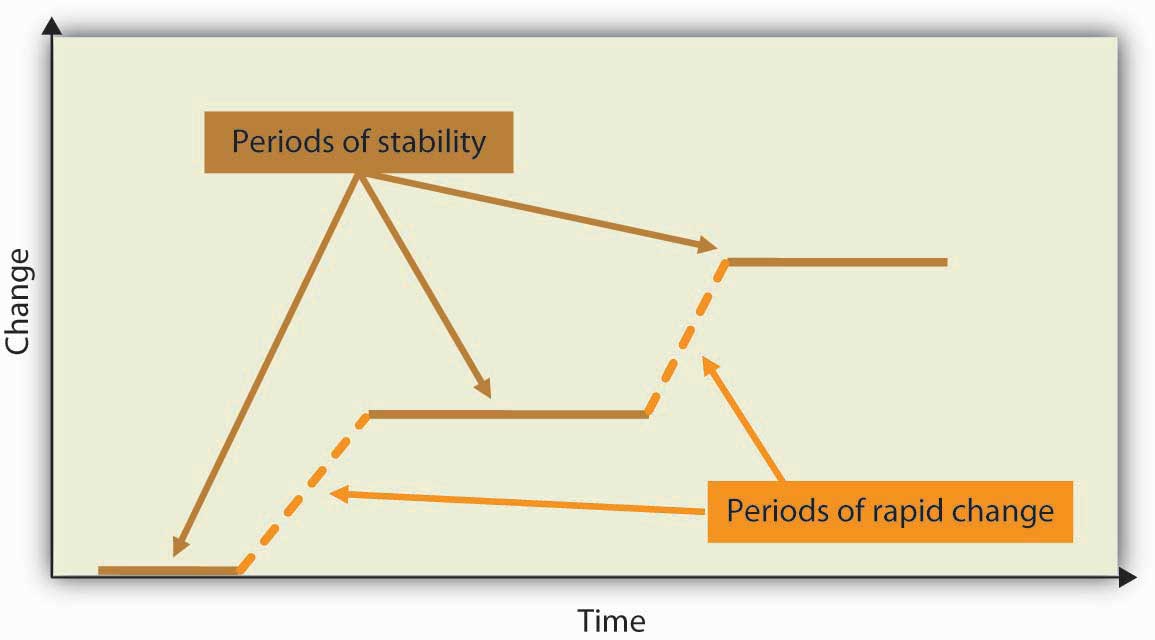 A chart of  Marketing ROI would look the same.  The truth is the dominant species (the high spending, strategic marketer) gets a majority of the cases.  These people will also, at a certain point, get a much, much bigger Return on Investment Ratio. Just like in evolution, you don't know where the breakpoints are. So if you are getting a 1 to 1 return, and have a great strategy, and a good consultant, and a coordinated team, you can find that punctuated equilibrium.  You can become the dominant species in your market.
I laugh at businesses that expect a 10 to 1 return on their marketing. If you are willing to buy a 10 to 1 return, I can promise that in some swamp land I own here in Florida.  However, a 1 to 1 ROI goal investment in an award winning Internet marketing firm is the smartest one you will ever make.
The more you put in, with proven strategy, the more you will get out.